New York has five boroughs. That's Bronx, Brooklyn, Queens, Manhattan, and Staten Island with many neighborhoods to choose from. Every borough has its distinctive features you can easily explore. Brooklyn is the hippiest place in New York. Although some might argue that Manhattan is the center of this worldwide known city, almost 70% percent of New Yorkers live in Brooklyn. One of the benefits of living in Brooklyn is that it's affordable. In Brooklyn, you'll get more space for the same money. Located in Kings County, Brooklyn is one of the best places to live in New York. It offers a dense suburban feel and numerous bars, pubs, parks, coffee shops, and restaurants. Furthermore, the public schools here are highly rated, and people are very friendly. If you're looking for apartments for rent in Brooklyn and wondering what are the best neighborhoods to rent in Brooklyn, read the following text.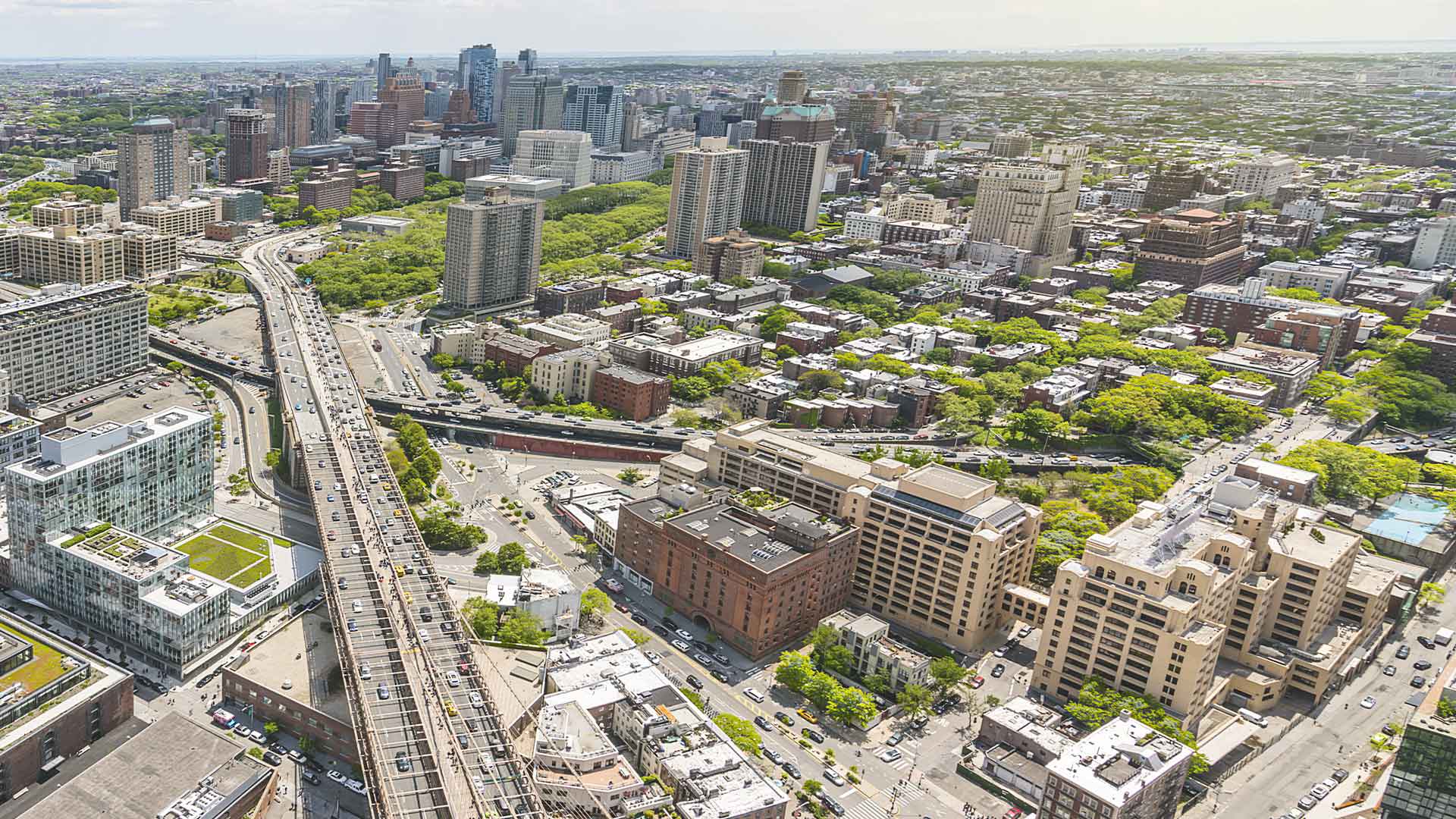 The Best Neighborhoods to Rent in Brooklyn
Williamsburg
Brooklyn Heights
Downtown Brooklyn
Dumbo
Prospect Heights
Bushwick
1. Williamsburg
According to the 2020 United States census, Williamsburg has 151308 residents. It has a central location to both Manhattan and Brooklyn and is one of the most diverse neighborhoods.
Diversity is seen in the unique combination of all cultures. It's very walkable and well connected to all parts of the city by the ferry and subways. You can even easily bike thru the neighborhood.
Additionally, the nightlife in Williamsburg is very vibrant, and there is a wide range of clubs, dance events, and even art galleries.
The average rent for a one-bedroom apartment is, at the moment, $3650, while the average rent for renting a studio is $2900.
There are many great East Williamsburg apartments for rent waiting for you. So, if you are wondering which neighborhood is best to rent in Brooklyn, Williamsburg is our first pick.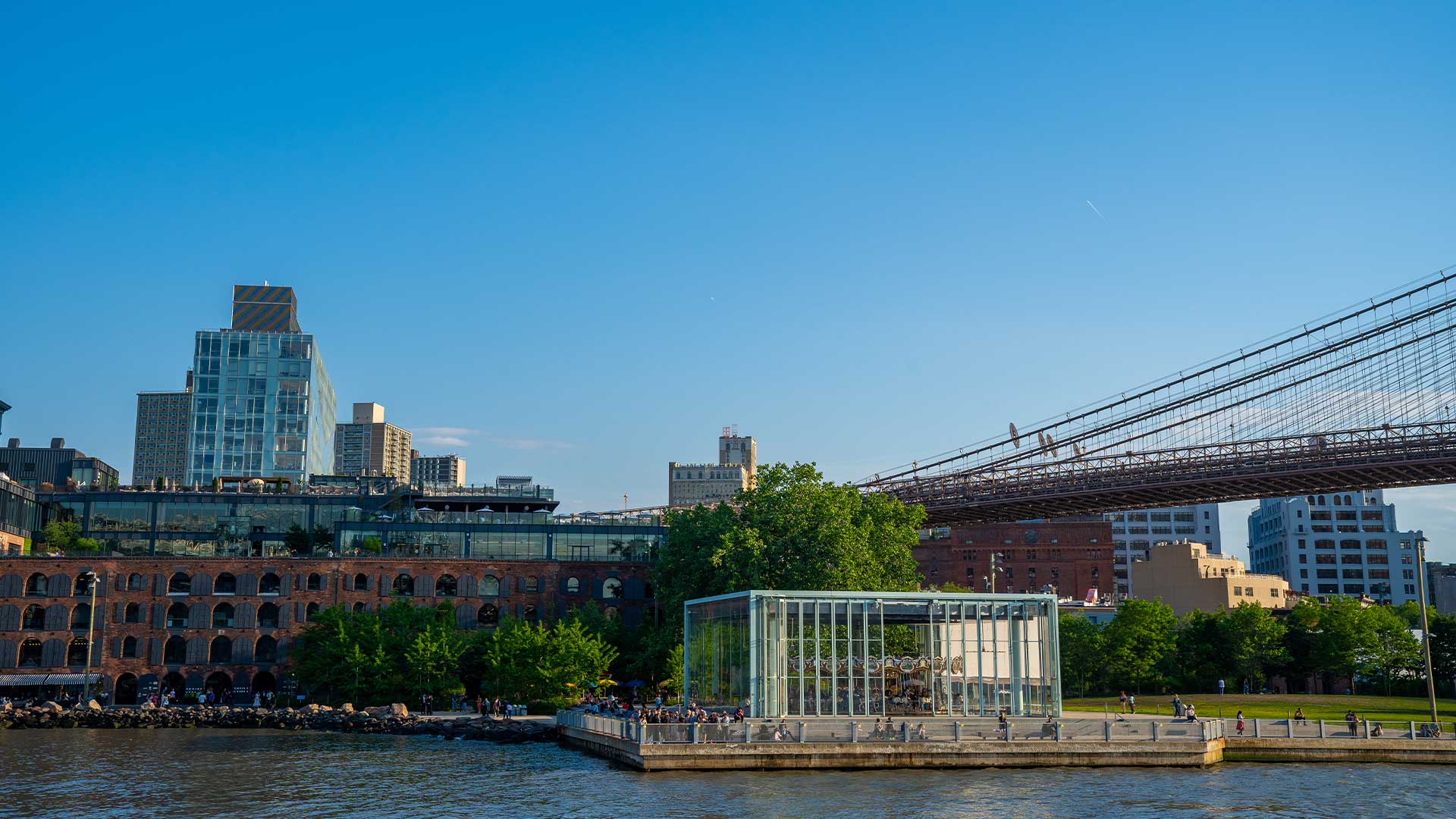 2. Brooklyn Heights
Brooklyn Heights, located in King County, based on the latest US Census, has a population of 24000 residents. It's one of the first neighborhoods you'll come across after crossing the Brooklyn Bridge. Brooklyn Heights has a cozy, residential feel while also having all the conveniences the city has. The residents here mostly rent their homes and describe this lovely neighborhood as very charming because of restored row houses. Besides row houses, homes, churches, townhomes dating back to 1824 add to the neighborhood's appeal.
Brooklyn Heights was the first neighborhood that was in 1965 designated as the National Historic Landmark.
The average rent for a one-bedroom apartment goes for $3774, while the average rent price for a studio will cost you $2850.
3. Downtown Brooklyn
Downtown Brooklyn is known as the third-largest central business district in the entire city and has a population of 64000 residents. Many young professionals, singles, and freelancers live here, while most residents tend to live liberal. Besides numerous pubs, restaurants, parks, and coffee shops, Downtown Brooklyn is a very diverse place, and you'll be happy to know it owns various museums, waterfront views, and green areas.
Downtown Brooklyn is considered one of the best neighborhoods to rent in Brooklyn. It is a place for those who think out of the box and value culturally rich and diverse neighborhoods.
The average one-bedroom apartment rent is currently $3717, while the cost of renting a studio apartment is around $3000.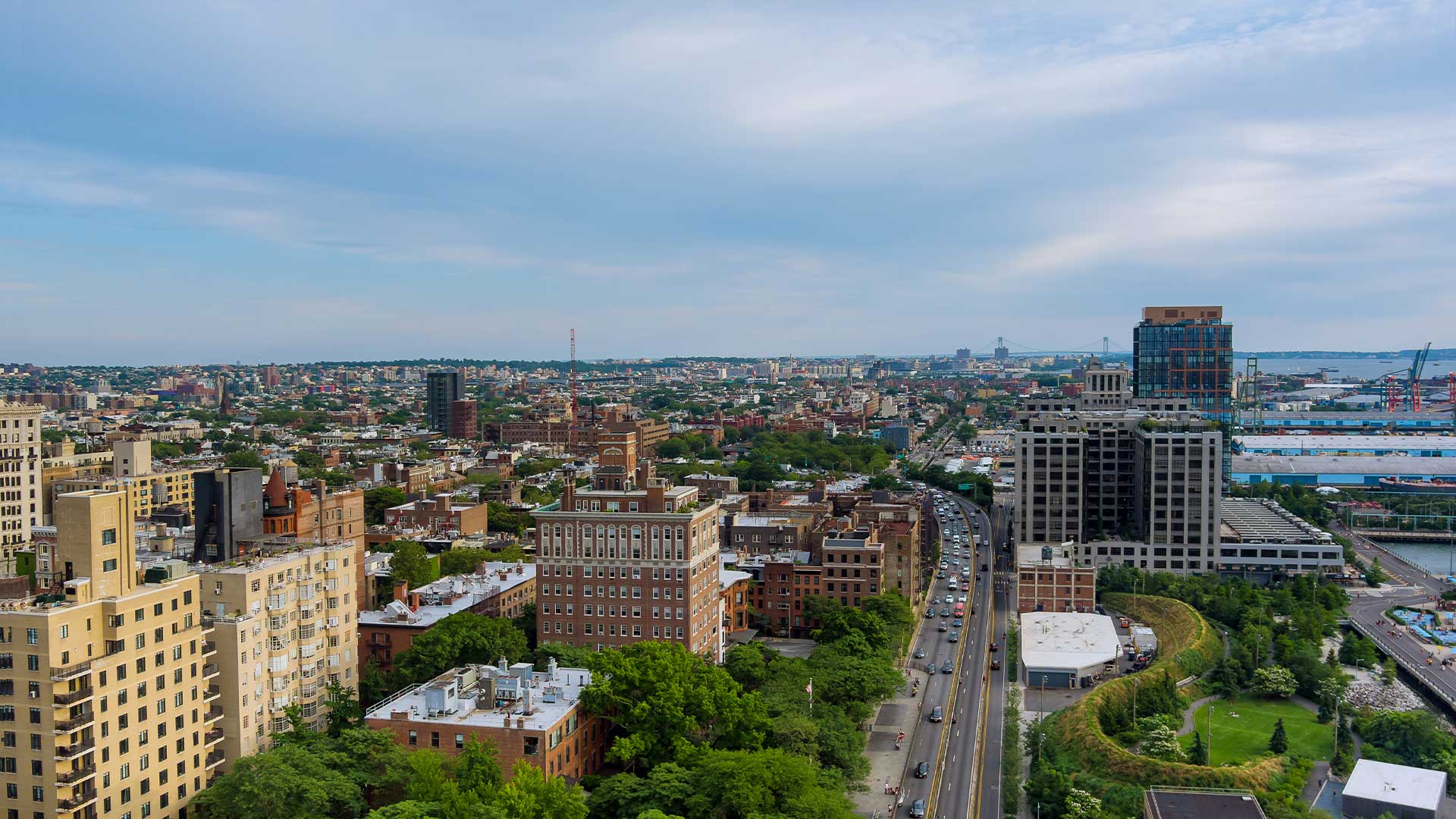 4. Dumbo
Dumbo, also known as the Down Under Manhattan Bridge overpass, is one of the best neighborhoods to live in NYC. In the past, it was known as Gairwille Dumbo has a population of about 63000 residents and represents one of the most laid-back neighborhoods you can find in the entire city. Plenty of modern amenities include fine dining, parks, and a diverse range of shops and small businesses. Residents describe Dumbo as a small but both modern and metropolitan village. It's one of the most desirable neighborhoods in Brooklyn. Additionally, Dumbo is also among the safest. A bunch of tourists visit Dumbo every year, and the majority of New Yorkers truly dream about moving here, meaning it's a great place to start a family.
The average rent for a one-bedroom apartment is around $4595 residents, while the average cost for renting a studio apartment is $3200.
5. Prospect Heights
Prospect Heights is one of Brooklyn's main attractions because of the Brooklyn Public Library, Prospect Park, the Brooklyn Museum, and Barclays Centre. It's also the home of the famous Brooklyn Nets.
With a population of around 23000 residents, Prospect Heights is considered a small town in the center of Brooklyn. How cool is that?
Back in the 1960s, Prospect Heights was known as one of the most diverse neighborhoods in the entire city because almost every nation lived there, including Irish, Jewish, Italians, Germans, and Yankees. Today it's known for a similar reason meaning that the culture is very mixed to this day, especially when it comes to whites and blacks.
Prospect Heights is considered quite safe since it has a below-average crime rate and a below-average property crime rate. You can find a lot of comfortable apartments for rent in Prospect Park Brooklyn, which makes Prospect Park another attractive Brooklyn neighborhood.
The average rent for a one-bedroom apartment in Prospect Heights is $3300 while renting a studio apartment here will cost you $3020.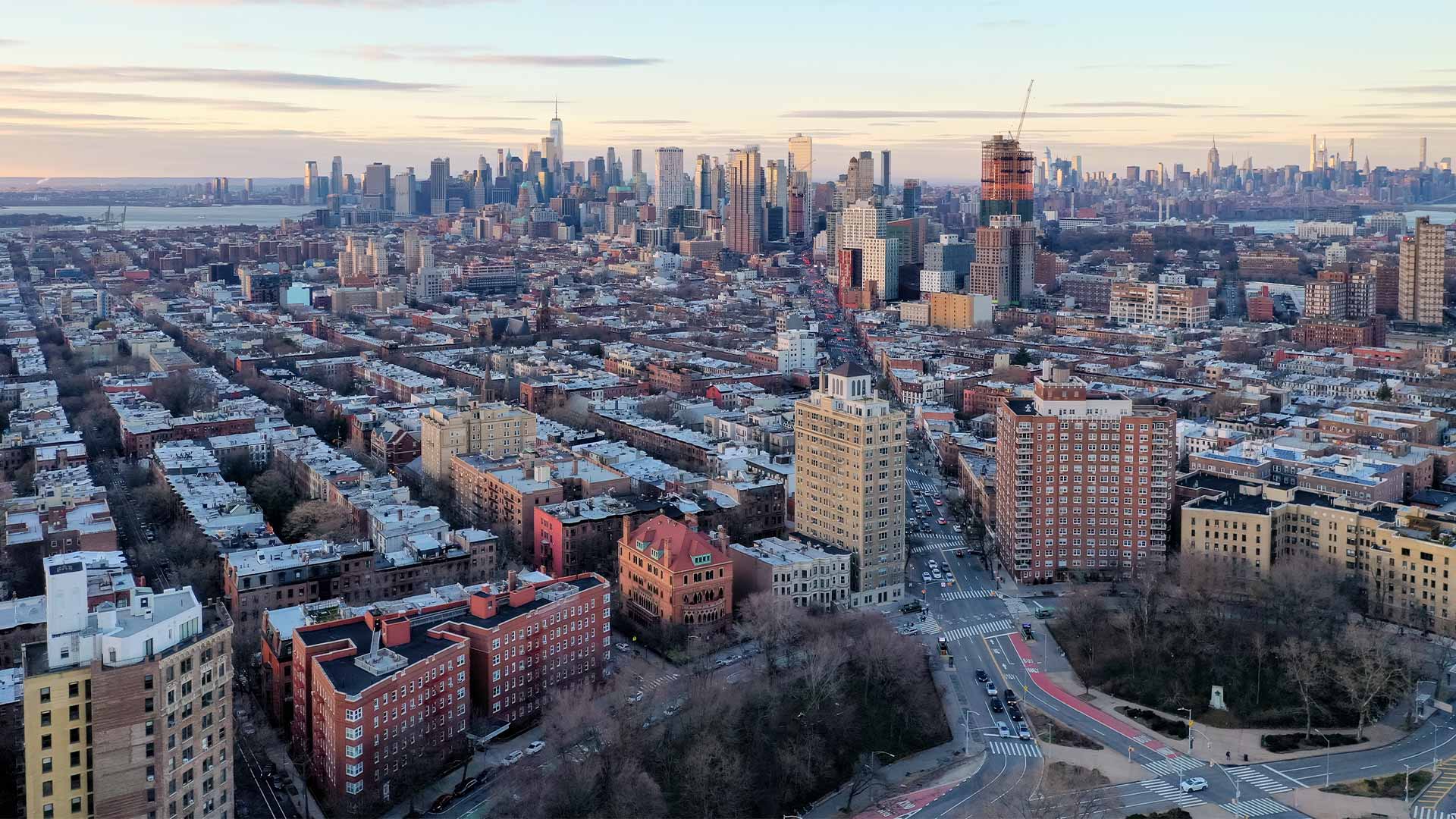 6. Bushwick
Bushwick's estimated population revolves around 128000 residents and is one of the top neighborhoods to live in Brooklyn. Living in Bushwick will grant you an attractive lifestyle whether you're a single, individual, or a retiree-there is something for every social and age group. Bushwick apartments for rent are very affordable now. Bushwick is a great place to be if you want to feel like a part of a friendly and kind community. It's pretty safe and well connected to other parts of the city. The average rent for a one-bedroom apartment is $2700, while the cost of renting a studio apartment in Bushwick is $2738, which is one of the main reasons Bushwick got a place on our list.